Alpine Physical Therapy & Wellness Center, Inc.
About APTWC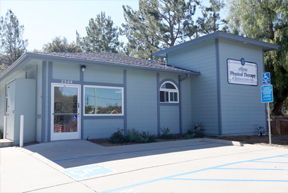 APTWC provides exceptional service and care to the residents of the greater East County San Diego. The Alpine and Julian clinics are far reaching in their service areas which includes many rural areas such as Lakeside, Dehesa, Descanso, Guatay, Pine Valley, Campo, Boulevard, Cuyamaca, Santa Ysabel, Warner Springs and more. Our state of the art facilities have all the necessities for excellent out patient physical therapy.
Our licensed physical therapists and physical therapy assistants provide a unique "hands-on" approach and treatment techniques to help patients reach their physical therapy treatment goals. Our patients receive highly individualized treatment programs according to their special needs.
Our specialties include:
Orthopedic/ sports injuries
Post surgical conditions including total joint replacement
Stroke, brain injury, spinal cord injury, and other neuromuscular movement disorders
Dizziness and balance disorders
Geriatric exercise guidance
Manual therapy and joint mobilization techniques
Work related and cumulative trauma injuries
Back injuries
Wound care
Education and wellness programs
Our progressive treatment programs are top notch and always delivered with care and a personal interest towards our patient.
Commitment
Alpine Physical Therapy & Wellness Center Inc' s Alpine location has proudly been serving Alpine and surrounding communities since February 2002. We are dedicated to providing the best physical therapy, medical services coordination, and health and well living for our local residents and those seeking our services from other locations. Our clinical staff works diligently to stay current with best practice techniques, clinical education, and evidence-based physical therapy. We believe in what we do, we understand the importance of physical therapy, and we love doing it.
Efficiency
We recognize the physical and emotional trauma that comes from injury and strive to make the patient experience easy and uplifting. We make every attempt to initiate your treatment timely, assist with insurance verification and authorization, and provide consistency within the treatment plan. We hold patient education in high regard and make every attempt to empower our patients to understand their diagnosis and their treatment options.